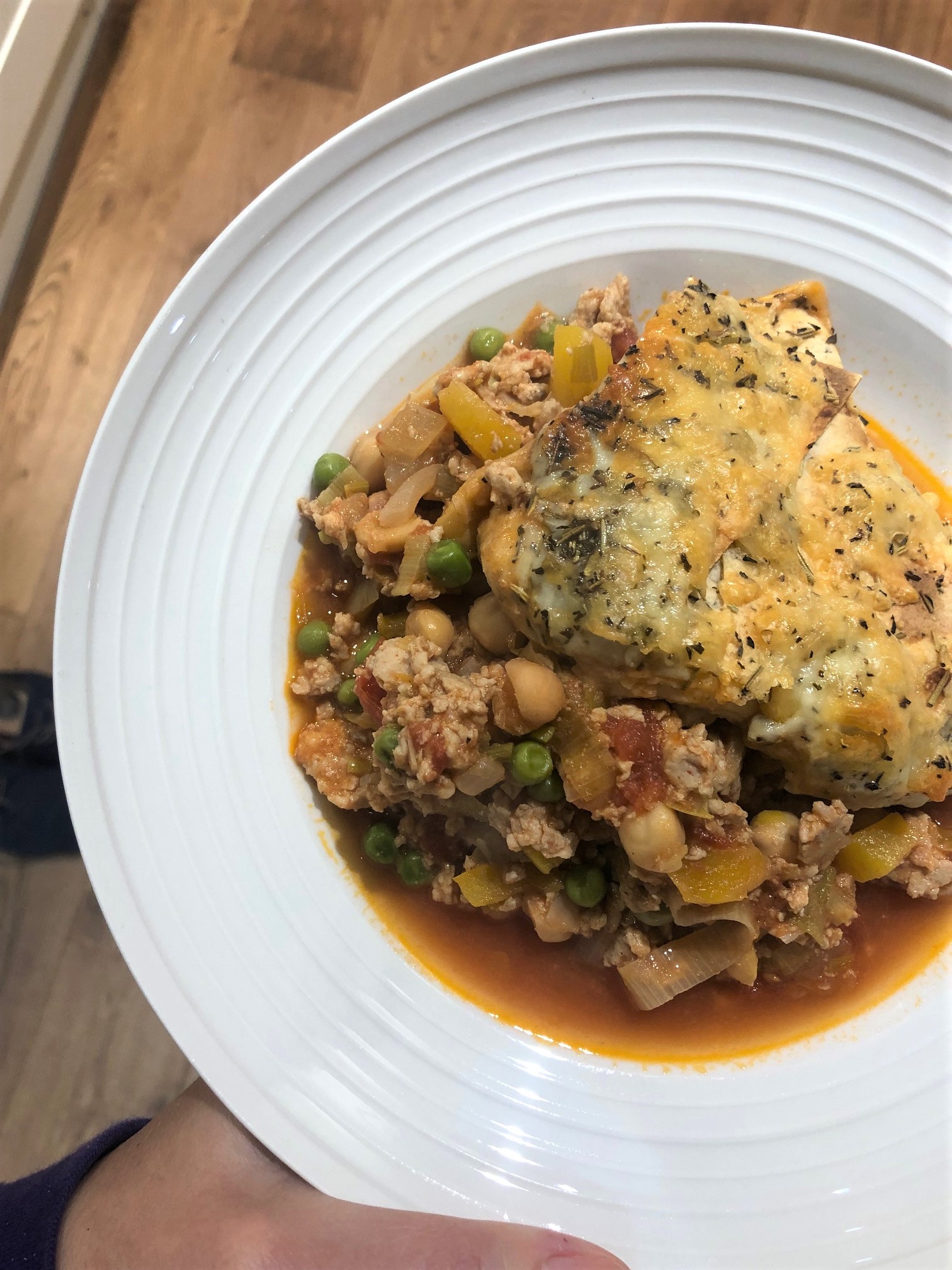 Serves 4-6
This light and tasty dinner will certainly mix up your weekly routine. Its quick, yummy and as it's made with chicken mince rather than beef or lamb it means it contains less fat. It does however mean you need to go hard core on the seasoning so don't hold back. I have also bulked out on adding extra veg here too.
You can now find chicken mince in many supermarkets these days but if not then your butcher will definitely have it. A mix of both breast and thigh meat is a great combination
INGREDIENTS
1 medium brown onion
1 teaspoon minced garlic
1 medium leek
1 yellow pepper
Pinch of dried chilli flakes
2 teaspoons paprika
2 teaspoons cumin
1 teaspoon rapeseed oil
500g chicken mince
1 400g tin chopped tomatoes
1 400g tin chickpeas, drained
½ cup frozen peas
Worcestershire sauce
2 tablespoons tomato ketchup
Grated cheddar cheese
Dried oregano
2 x wheat tortillas
Salt and pepper
METHOD
Finely chop the onion, yellow pepper and the leek.
Heat the rapeseed oil in a pan over a low heat and gently fry these for about 10 minutes. Halfway through add the chilli flakes, cumin and paprika. They shouldn't colour too much.
Turn the heat up to medium and add the chicken mince, fry for about 5 minutes whilst stirring and breaking up the meat.
Then add the tinned tomatoes, chickpeas, Worcestershire sauce, tomato ketchup, salt and pepper and mix well. Turn the heat down to low and simmer for 15 minutes.
Add the peas, stir and turn the heat off.
Place the mince mixture in a casserole or lasagne type dish. It doesn't have to be round, any shape is fine.
Cut the tortillas into eight triangles each and arrange them on top. Mix the cheddar cheese with the oregano.
Ake in the oven for about 15 minutes until the top has gone crispy
Serve with a fresh crunchy green salad.