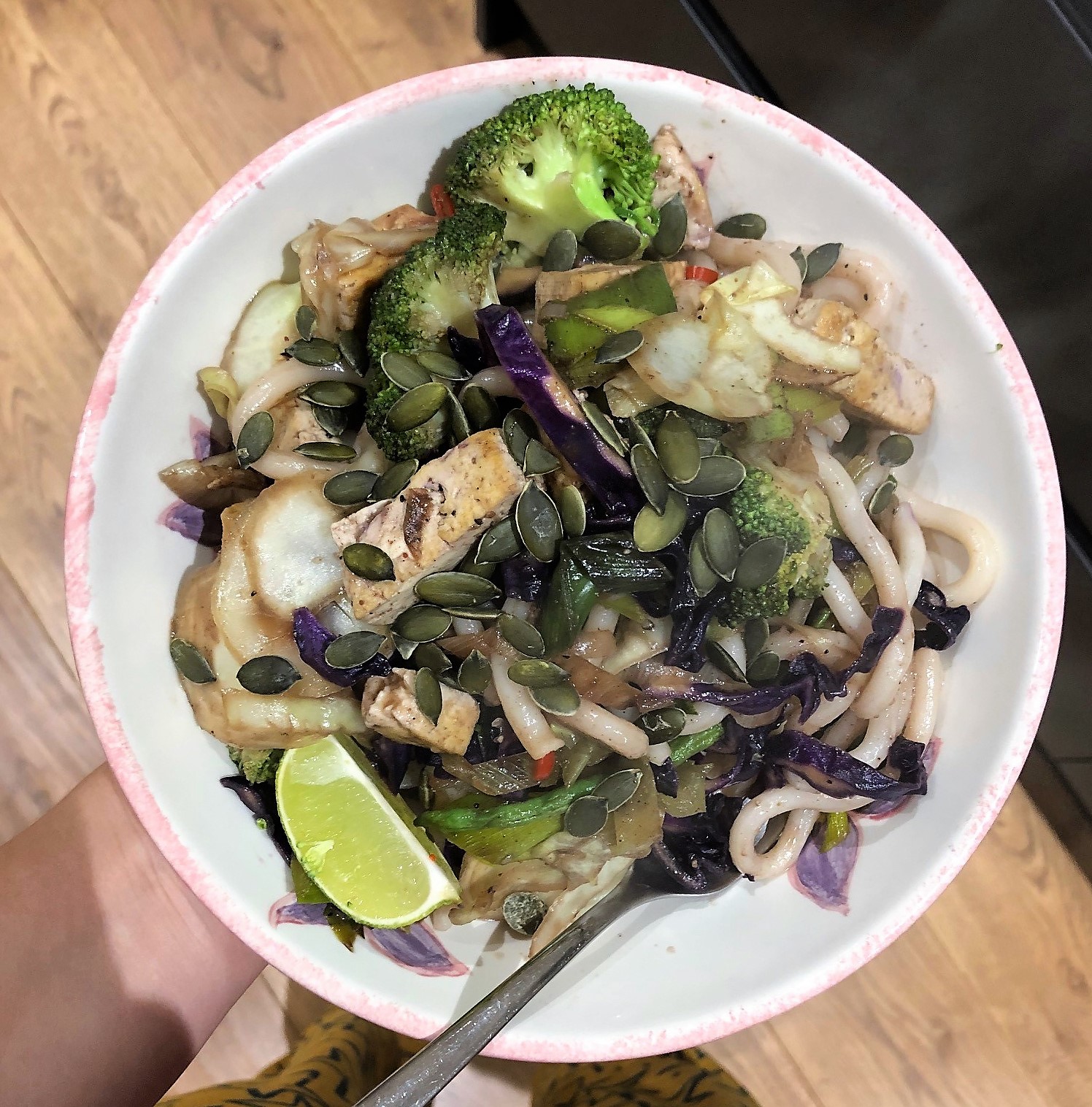 Honestly one of the best stir-fry dishes I have ever made. Firstly with chicken and then with tofu. The spices and sauce mix definitely make it super tasty.
Serves 2
INGREDIENTS
300g tofu OR 2 chicken breasts, diced
1 small onion, roughly chopped
3 cloves of roasted garlic
A handful of spinach
6 brussel sprouts, quartered
4 small florets of broccoli, roughly chopped
15 green beans, trimmed and halved
Udon noodles (2 x 200g packs)
1 teaspoon ground coriander
1 teaspoon nutmeg
Black pepper
1 tablespoon fish sauce
2 tablespoons soy sauce
Small handful of coriander roughly chopped
Rapeseed oil
Sesame seeds/pumpkin seeds
It's the roasted garlic that makes the difference here. I know it sounds like a lot of effort but it's quite simple to do. Get a whole bulb of garlic and put it in the oven for about 20 minutes at 180C. Throw the bulb in the oven whilst you are cooking something else.
METHOD
If using tofu: In a wok (or similar shaped pan) fry the tofu in a teaspoon of rapeseed oil until golden brown and remove.
If using chicken start here: In a wok (or similar shaped pan) fry the onion and roasted garlic until softened in a teaspoon of rapeseed oil (about 5 minutes).
Add the diced chicken and fry until it has some colour
Add in all the veggies, spices and sauces.
Stir fry until the veggies are cooked, roughly 5-8 minutes.
Cook your noodles as per the packet instructions. This is usually to boil them for 2 minutes.
Drain. Then add them to the stir fry pan. And add in the cooked tofu if using.
Mix until everything is combined.
Serve topped with sesame or pumpkin seeds and coriander leaves.