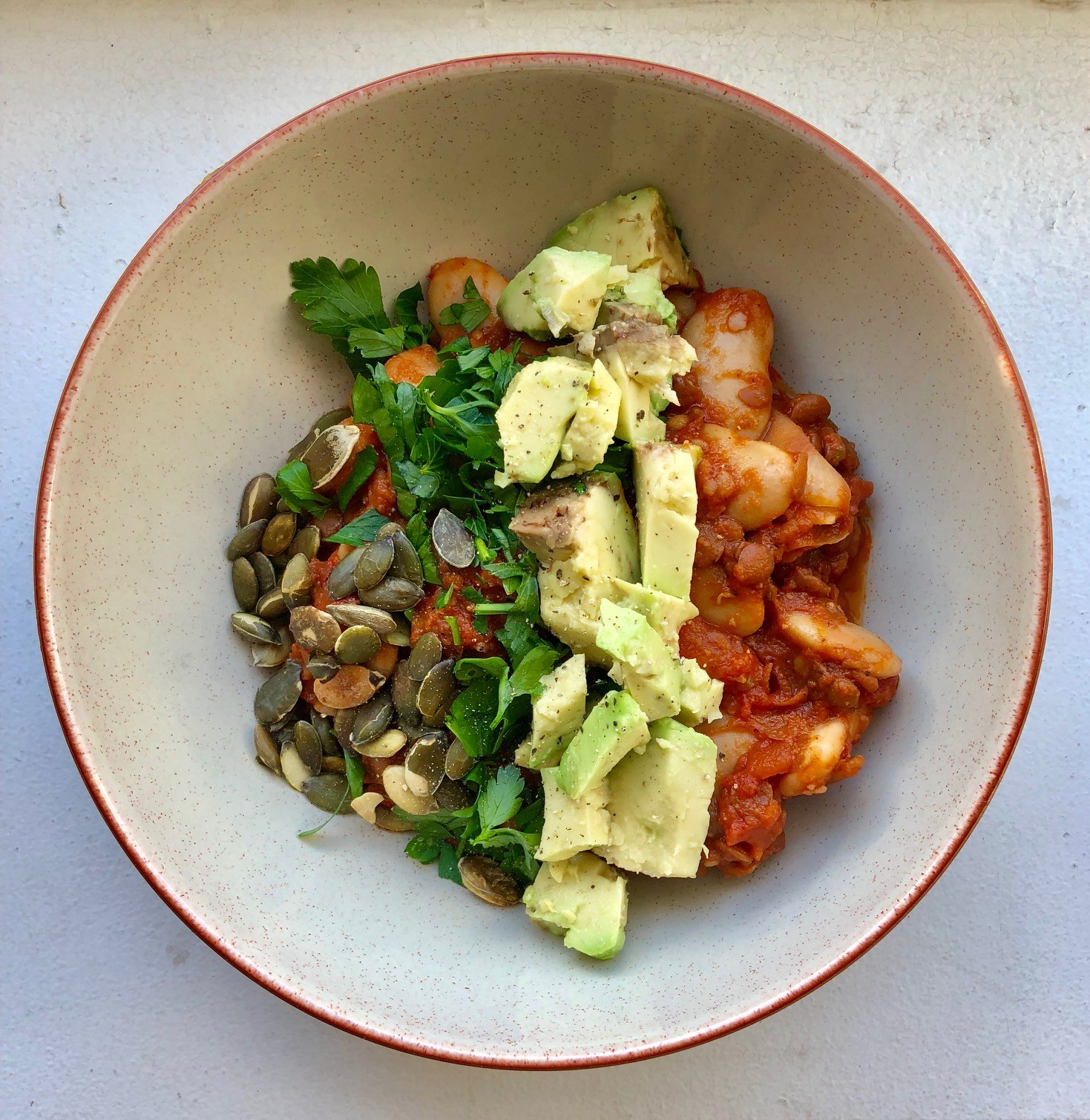 Serves 4 with extra toppings
Quite frequently baked beans get a bad wrap for being high in salt and sugar and whilst product re-formulation has brought these values down to more adequate levels there is sometimes nothing better than making your own. Beans are a powerhouse in the world of fibre, something we all need more of. The base recipe for these beans is vegan, and there is quite a lot of seasoning in here, beans and pulses do need a little bit of help in this area, especially if you aren't used to eating them. But for me, it's all about the toppings! So, serve for breakfast with some toasted sourdough and a poached egg, or make a lunch bowl with anything and everything from chopped parsley, avocado, feta, toasted pumpkin seeds, baked tofu…the list is endless.
TIP 1: I prefer using whole tinned tomatoes, they have more flavour and you can break them up whilst they are in the pan into smaller chunks.
TIP 2: Buy a jar of minced garlic from the world foods section of your supermarket, it keeps in the fridge for months and you never need to bother peeling and chopping again. The one I use also has no added sugar or salt for preserving so just take a quick look at the label before putting it into your trolley.
INGREDIENTS
1 brown onion, roughly chopped
2 teaspoons minced garlic
1 tin butter beans
½ tin green lentils
1 tablespoon tomato paste
2 teaspoons harissa
½ teaspoon smoked paprika
½ teaspoon dried oregano
Parsley stalks, finely chopped
1 tin of plum tomatoes
½ tin of water
1 teaspoon rapeseed oil
Salt and pepper
METHOD
Add the oil to a large saucepan and place over a medium heat. Ensure you only use a teaspoon as it's so easy to go overboard when adding oils and they can add unnecessary calories.
Add the onion and garlic and lightly fry until the onion is translucent, about 10 minutes
Add everything else, stir
Bring to the boil and then simmer for 45 minutes with a lid on, stirring every 15 minutes.
Add extra water if the beans become to dry
Serve, freeze or keep in the fridge for 3 days