Check out some of the places I'm raving about....
COAL OFFICE
2 Bagley Walk, Kings Cross, London, N1C 4PQ
There is a relatively new place in Kings Cross called Coal Drops Yard, it's quite impressive. They not only have eateries and bars but also clothing, retail, beauty and events. In summer I bet it is just the place to be.
I had heard very good things about Coal Office from friends and associates however had never been able to get a table as it's always booked, and now I know why.
They have both table and bar seating, my friend booked for us and we had a table (thankfully as at 7 months pregnant sitting on a stool for the night wouldn't have been the most comfortable) however the benefit of the bar is it's an open kitchen so you can watch as the food is cooked.
Space wise, it's cosy but that somehow that makes the vibe extra special. Upon being seated we were quickly given a mini gin cocktail, almost like a shot, which the staff promptly replaced with a non-alcoholic version for me and a small taster of chickpeas, tomato, herbs are feta, nice touch.
The menu is sharing, as are most these days, with coal and wood, small plates, in between and big plates.
The coal and wood is a menu dedicated to bread. Naturally we chose the Kubalah served with labneh, tomato confit and fresh oregano which didn't disappoint. It is a Jewish inspired bread, made with loads of butter, like a croissant on steroids but extra soft. We then chose two dishes from the small plates and two from the big plates menu. There is an "in between" menu, however there was nothing that took our fancy so we skipped it.
We tend to order veggie plates when eating out as it's a good way to experiment and also I sometimes find meat can be the star of the show.
The small plates were the Moroccan Fennel Salad with olives, almonds, harissa & orange and the polenta. Creamy creamy polenta. With asparagus, parmesan and black truffle. I'm not a massive truffle fan yet it's not too overpowering in this dish so I would recommend ordering it. Mixing up the texture here was key, the fennel is crunchy and the polenta is smooth and silky, they work well as complimentary dishes.
From the big plates it was the Freekah Hamussta with courgette, chard, aubergine fillet and pine nuts. This was actually my least favourite dish, it was still tasty but the smoky flavour from the aubergine was very strong and it was a bit under seasoned. The texture of the entire dish was also quite soft. However, the Sea Bass Yerushalmi made up for it. This was also served with aubergine, black rice, green beans and courgette. This and the fennel salad were my two favourites of the night. The fish was cooked too perfection, which let's face it is hard to do, the rice had bite but worked well with the soft aubergine.
It wouldn't be right for me not to have commented on the fact that a lot of the plates are served with dill. Be wary if you don't like it, although you can easily pick it off. Also the gold plates look lovely, but as they aren't a solid base they move when you try to serve food off them, not practical.
Dessert to share was a toss up between the Chocolate Overdose or the Not so Simple Cheesecake. So, we asked the waitress who said he cheesecake, straight up. It was almost deconstructed but surprised us. When it arrived the bottom of the plate was white, which we thought was the plate, however that was the cheese. With the base, extra cheese and berries in the middle. 100% the right decision.
Staff wise, very attentive, always checking in to see if we needed anything. Even though they dropped the bill off without us asking, it kind of didn't matter that much. It's pricey but it's not everyday you eat at such a special place.
GRANGER & CO
175 Westbourne Grove, London, W11 2S
How I haven't written about this place yet I will never know. Bill Granger has firmly cemented his place on the London food scene and maintained it. Quite frankly with customer service levels dropping off the face of the earth, it's hard to find a decent eatery these days that ticks all the boxes. But Granger always does. Locations in Clekenwell, Kings Cross, Chelsea and Notting Hill whichever side of London you are on, you should be able to make the journey. There are queues though, so get there early.
The scrambled eggs have to be my sincere fave, the silkiest, dreamiest eggs I have ever tasted. Clearly, they are loaded with butter and cream because that's how you make them taste so good, but when brunching that is a minor detail really. I visited Noting Hill in September with an Aussie mate of mine and opted for the porridge, slightly different from my normal (but that's what pregnancy can do to you). Miso and brown rice porridge, coconut yoghurt and mango which was creamy and smooth and very warming on an unusually cold morning. She had the eggs. I had food envy.
Coffee is by Allpress. Need I say more. Their London roasteries are based in Dalston and Shoreditch and they have cafes associated with them too. The coffee itself hails from New Zealand and you will no doubt have seen their brown and black disposable cups in someone's hands, although I hope they release a reusable one soon.
From previous visits I'd recommend the eggs (obvs), the fresh Aussie (for someone with a big appetite), vegan granola, toasted coconut bread and then a granger greens juice.
It's just a lovely place to eat and catch up. The staff aren't pushy the seats are comfy and there is always a good vibe going on in there. Possibly my favourite brunch place in London. It also reminds me of home. Quite a lot.
Also worth mentioning they are open for breakfast, lunch and dinner.
Photo cred to Granger & Co, I was too busy enjoying my food to snap!
INKO NITO
55 Broadwick Street, London, W1F 9QS
The perfect addition to Broadwick Street, in my humble opinion. We opted to dine early, I don't know if it's because I am getting older or because it's a new trend (clearly the latter makes me feel better) but eating out early is a winner. It's not as busy, or loud and it means I can get my train home at a reasonable hour too. Living life in my thirties to the absolute max.
Anyway, onto the food. Japanese is quite often thought of as sushi, but it is so much more and Inko Nito delivers on all aspects. They take walk ins and only reserve tables for larger groups, so we didn't book. We were seated directly across from the Robata grill which is in the middle of the restaurant, great spot, can see everything. Kombucha and a Kirin were delivered promptly and we mulled and chatted for a while before ordering. The food arrives when it's ready which means you can just graze away and order extra if you are still hungry. Chopsticks are your weapon of choice too, so get practising.
The menu is clever, it's simple and printed on plain white paper, the outside is covered in the definitions and pictures of items you are likely not to know. Handy, as this happens quite frequently when reading the menu.
In no particular order… Padron pepper skewers, I know, peppers actually on skewers, with me and Silvia this is always a must. They also had a umami mayo & lemon sauce which was epic. The cali "nigaki" was presented so differently we were both in awe of it when it arrived, described as somewhere between maki and nigiri. Crab, avocado, wasabi and yuzu it was light and refreshing.
Beef cheek lettuce wraps and charred seared salmon with wasabi ponzu dressing and watercress arrived and were devoured. The beef basically fell apart on the plate it was so soft and the salmon, well it was salmon, you can't go wrong.
Many of you will know I used to hate aubergine, but it is honestly all about how it's cooked and I can quite confidently say this was my favourite dish of the night. Grilled with garlic and lemon miso with spring onions. Literally. Next level mush and stickiness.
I then added on the tempura prawns at the end just because I wanted to, probably didn't need it but it was tasty. Sticky and with a squeeze of lime was the perfect way to end the meal.
The service was great, we were constantly looked after and as many diners started arriving we were just finishing up. £35 each including service (we also didn't drink alcohol which brings the price down a lot).
Will 100% be a returning customer.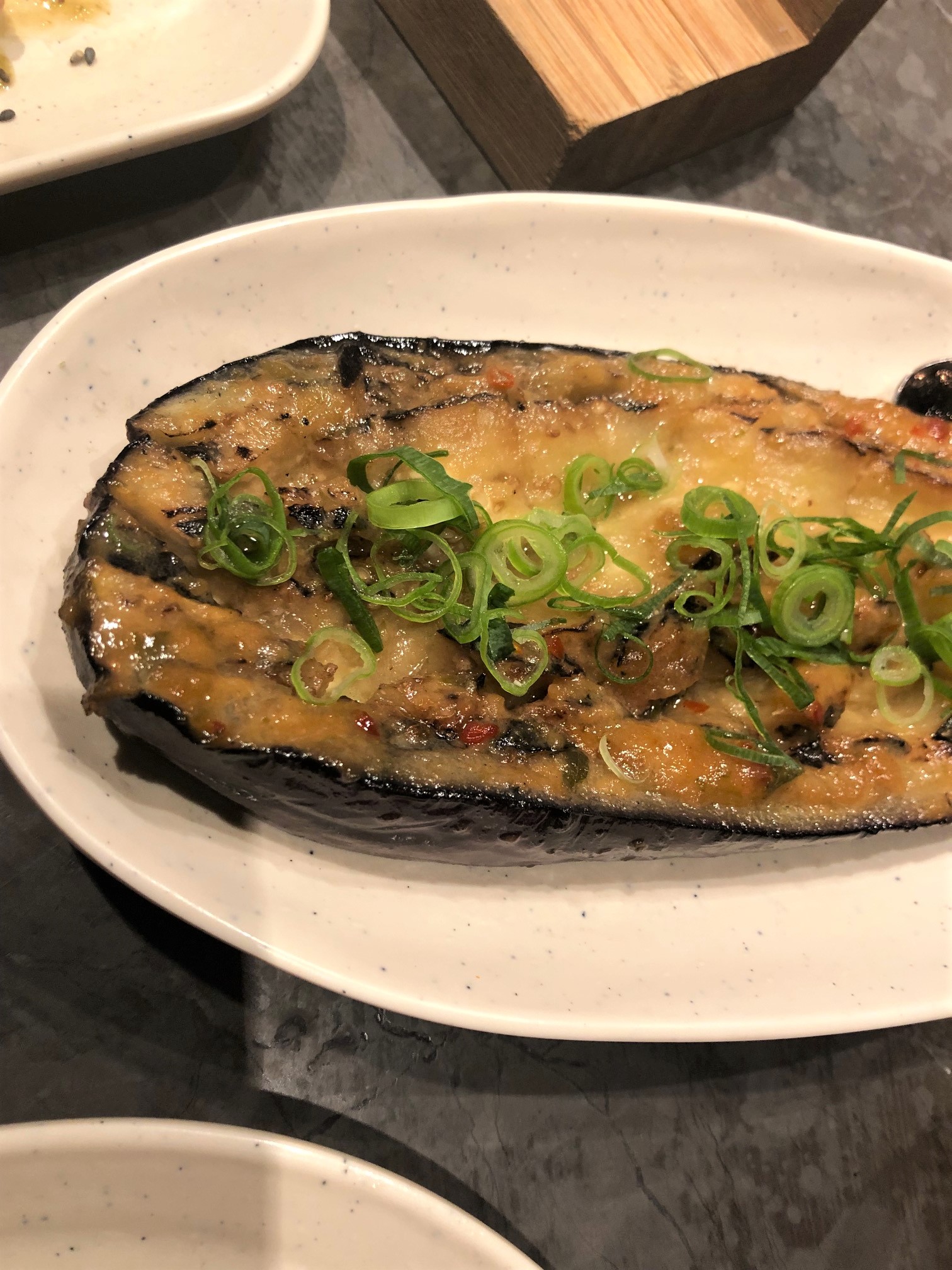 PASTAIO
Ganton Street, Soho, London, W1F 9BN
Homemade pasta. Nothing quite like it. This popped up on one of my social feeds and it was instantly on my list of places to get to. Sometimes at home we also make our own pasta, it's super easy and really does taste different to the pre-made stuff.
Only open for about six months these guys certainly know what they are doing (I even took my Italian friend and she gave it the thumbs up) and I love the fact they use British produce too. Backed by Stevie Parle, no need to say more, they operate a short menu. Simple things done well is something I'm a massive fan of. I arrived early (the don't take reservations) and was seated on a table for two at the back against a beautiful mural by Rob Lowe, A.KA. Supermundane. They also have three long sharing tables in the middle and a cute outside area, although at this time of year we are severely struggling with the weather!
I aptly ordered an aperol spritz, perfect (except for the paper straw). I get it, we need to do this for the environment and I fully support it. I just purely don't like the texture of them so it's no more straws for me. Once my friend arrived we ordered. First up we shared the fried mozzarella, nduja & honey sandwich. I mean, severe fat intake right there, but it was on point. Creamy yet with a bit of spice from the nduja and the bread was crunchy on the outside and soft in the middle. Tip – make sure you lean over the plate as the juices might drip out!
It was a tough decision for the mains, I opted for the cavolo nero, smoked ricotta and casarecce, it arrived bright green and was delicious. The smoked ricotta added and extra depth of flavour which I wasn't expecting and the casarecce was al dente. My friend chose the fonduta ravioli del plin, chicken broth which is on limited availability. She told me "if it's good, it's good" so I was intrigued to see what arrived. A bowl of chicken broth with tiny ravioli floating on the top. I took a spoonful, savoured the saltiness of the broth and then the creaminess of the ravioli. I'm ordering this next time!
Dessert. Cannoli, ricotta, orange and pistachio. Something I associate with The Sopranos yet still haven't tried one. Again creamy inside and crunchy outside, one was enough to share.
Customer service is brilliant, we asked quite a few questions about the food and weren't left wondering. Food was delivered promptly, even though by the time we were half was through our meal a queue was building outside. Reasonably priced too with mains from £6 to £12.
They say on their website they also have great music. This is true. If you aren't into food, just go for the music and the bar menu! Bellissimo!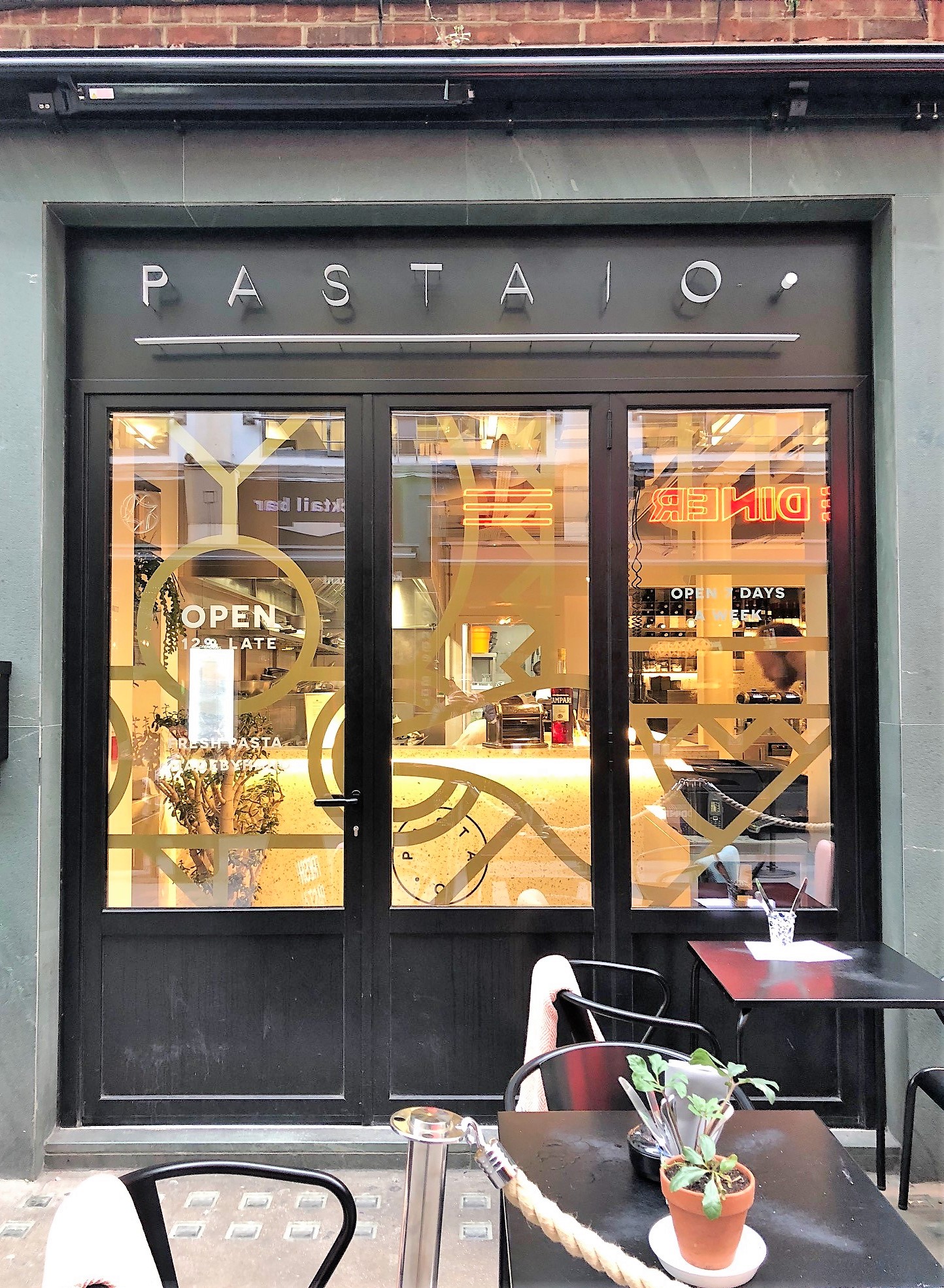 SOM SAA
43a Commercial Street, London, E1 6BD
This one has been on the list for a while now, I've not heard a dodgy word about it, but hadn't managed to get there as it's a trek from West London – I know, first world problems. You see, I'm a lover of food from South East Asia, always have been and will continue to be. In fact, this year I've committed myself that I'll cook more of this style food at home, so keep your eyes peeled. It's simple, flavoursome and full of nutrient packed ingredients, no brainer really.
As they don't take reservations for groups under four, the two of us, arrived promptly at 6PM when they opened, were greeted by a friendly guy who advised us our table would only be ten minutes. We took a set and read through the drinks menu. The front is filled with high and low seating, bar stools and booths and feels very organic, lots of wood and plants. The bar staff also wear Thai style shirts which is nice touch. From the front the space is also quite deceiving and looks small, but on the other side of the bar, it's big and open right up, filled again with different tables and seating styles and an open kitchen at the back.
We opted to share four dishes with accompanying rice (which might I add, is unlimited, perfect for a rice fiend like me!) Like many places the dishes arrive when they are ready, so first to arrive was the gai yang, (Thai style grilled chicken leg with a tamarind dipping sauce) som tam Thai (green papaya salad) and some sticky rice. The tamarind dressing was so good we kept it on the table for the entire meal. The papaya salad was full of crunch and flavour, with ample spice. Next arrived the kuri squash curry with some jasmine rice. This was my favourite dish of the night, and is photographed below. The squash was still firm, the cherry tomatoes popped in your mouth and the curry sauce was just bloody amazing! The special was last to arrive (pollock with red curry sauce wrapped in banana leaf). We were surprised the kitchen had prepared a little something extra for us as we'd ordered the first special of the night and it had taken them a little longer to prepare (although we were busy feasting so hadn't noticed). So also put down on the table was the lon pla kem, a dipping relish made of pork and salted mackerel. This one's popular in Thailand but can be missed by tourists as it's a bit off the beaten track. It arrived with herbs, mini Thai cucumbers and other raw veg for dipping, so we got stuck in. Salty yet also creamy, due to the coconut cream. However, the mackerel was just a bit much for me personally and I just couldn't get used to the taste. I love the concept and the fact it's so traditional, just not for me.
From the second we walked into Som Saa I knew it would be great, the service was spot on, the entire space smelled entirely of Thai food and the food represented that. Any chance there might be one opening a little more….West?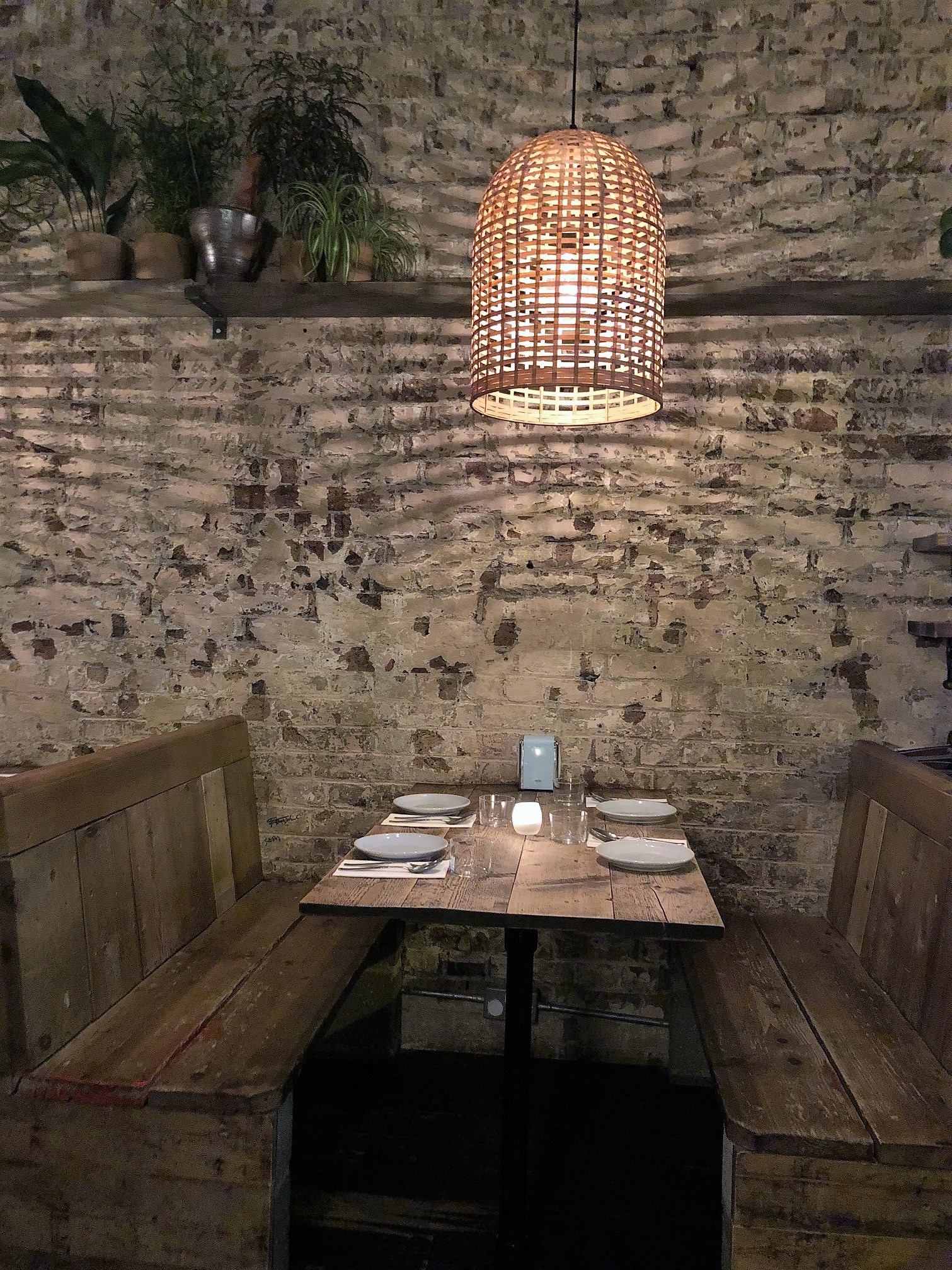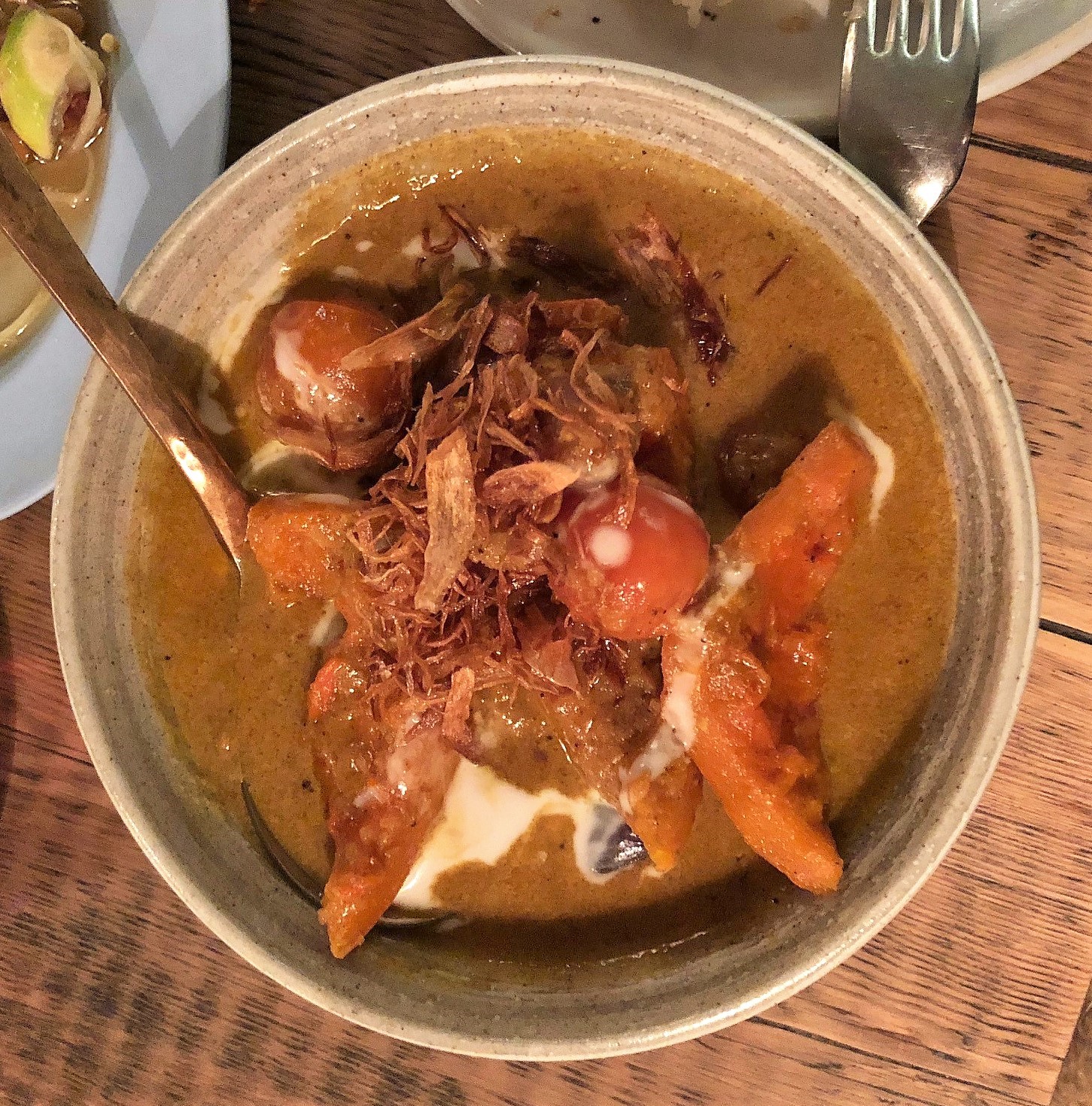 PACHAMAMA
18 Thayer Street, Marylebone, London, W1U 3JY
A good friend of mine recommended this Peruvian delight a while ago so when I had to make a last minute decision on where to eat earlier this week it was a no brainer.
I was early and shown straight to a table, the restaurant is quite big and opens right up into the basement. It's dimly lit, with cute, quirky décor. We also passed mama's kitchen on the way, you can't miss it really. My friend soon arrived and we browsed the a la carte menu and tasting menu over a glass of Spanish rose. We decided the tasting menu might be just too much food, twelve plates in total when our total haul was seven, glad we didn't but it would lovely if you're absolutely ravenous or dining with people who can eat an awful lot of food, we're all different!
First up snacks, beef short rib croquetas and the traditional padron peppers, which might I add were huge! The croquetas were crunchy on the outside and soft of the middle, pure perfection. Next up were the mains, although everything gets served as and when it's ready in no particular order. We went big on the fish, yellow fin tuna ceviche with pickled potatoes and cucumber as well as sea bream tiradito with tigers milk and purple cauliflower. The bream was so refreshing we saved some to have right at the end. Fried aubergine, smoked yoghurt and pecans was my fave. I've never actually loved aubergine until recently so every time I eat out, I try to order it. It was so soft and just melted in your mouth, and the pecan added a nice crunch to outside, if you get anything, get this. The duck on rice arrived last and was delicious, I don't know what kind of creamy sauce it was served with but it was delicious.
Dessert to share, yes please, it was toss up between the quinoa ice cream or the pumpkin custard and almond sponge so the waiter helped us. Pumpkin custard won. A super light, tasty, dessert, the pumpkin was subtle with the chocolate and orange flavours coming through from the garnishes.
Any downsides, just one because we were left quite a while between our mains being cleared and dessert being ordered, as well as asking for the bill, a little bit like we'd been forgotten about. The service had been outstanding up until that point. Their sister restaurant Chicama is next on my list.
No food photo's this time, trying to actually enjoy meal times rather than spending all my time taking photos, social interaction at its finest. These guys also have an all day bar, with a pisco focused cocktail menu and a happy hour which runs from midday until 7pm, as the world famous master of the tick once said, #justdoit
IPPUDO
31A Villiers Street, London, WC2N 6ND
There is a concurrent theme running through here, I know, typically south east Asian food, but there will be other reviews to come along I promise. It's just at the moment these are the types of places I tend to hang out in, and for good reason. Ippudo is located directly across the road from Bests Bootcamp where I teach cycle, albeit I have the permanent Wednesday morning slot so therefore ramen or any kind of hot Asian dish at this time of day isn't really what I tend to go for. That being said I've ventured here twice in the last month and haven't left disappointed. Famed for their ramen, which I opted for on visit one, last week during the grip of snowmageddon I went for the chicken donburi, purely because of my absolute love of rice. I've only ever tasted the donburi served at Wagamama's which is also delicious so when this one arrived, it did look a little different.
Let me introduce you to chicken nanban don - The rice was ample sticky, the chicken, fried and crispy and the nanban sauce on the top adds a lovely creamy flavour, as it's a secret sauce you don't know what to expect, so I won't ruin the flavour profile for you. You also get some lovely accompaniments of pickles and tartar sauce, and the tables are only set with chopsticks so it's great for practicing your technique. Oh and I almost forgot to mention the steamed hirata buns, which I've shared with my co-diner on both occasions. On weekdays before 7pm you can get three of these beauties and a beer for £10 – good deal considering the size of both the buns and the main courses I'd opt for sharing these as a starter. And get the variety pack, one veggie, one pork belly and one chicken, then cut them in half (you'll need to ask for a knife as it's tricky using the chopsticks for this!)
It's cheap, cheerful and I've been welcomed with a smile every time I've walked in the door. We have never waited for a table, and whilst it's cosy and the tables are close to together it works.
By the way: quickly on the ramen, not only do they use different broths but they also offer you different noodles depending on how hard you like them, personally I've gone for medium which meant they still had texture to them. And poached eggs in most cases are an option as well, so you can bolt them on if you fancy it or if you want and added protein and fat fix. And if I'm brutally honest I actually cannot remember which one I chose the first time but have a sneaking suspicion it may have been the hakata niku ton, with a poached egg, obvs!
They also have branches in Soho and Canary Wharf. Plan a visit, while the weathers still cold (ish)
MAISON BAB
4 Mercer Walk, Covent Garden, London, WC2H 9FA
The sister (or brother) restaurant to Le Bab in Kingly Court I wouldn't have known this place existed if it wasn't for my friend who suggested we stop by for lunch. Perfect corner spot opposite Temper and close to Covent Garden and Leicester Square I was welcomed by a friendly face just after 12noon. I was early. I am always early. No booking and with it pouring rain outside I had everything crossed there would be a spare table. I wasn't disappointed.
Until my friend arrived, I worked and was waited on promptly for drinks. The restaurant started to fill up about 1230 and it was jam packed for the entire time we were there. A few dishes were off the menu that day but still plenty of selection. The menu is Israeli inspired and really goes to show how herbs and spices can complement a dish, we should all use more of them in our cooking. Also, important to note, the meat is free range and everything on the menu is made on site. Trust me it does make a difference. Both the chicken and lamb are also halal and they love vegans and vegetarians – it says it on the menu!
Padron peppers to share as a starter were cooked to perfection and also not overly salty which was fab as I often find they can be over seasoned. I opted for the "Maison Sabich" which is a focaccia filled with smoked aubergine, topped with peanuts, chilli and cress and underneath all that a house made yoghurt dressing. My friend had the "Lamb Adana" which looked divine and she also reported this was exactly the case. We also added a side salad, and I'm glad we did, this could be a standout dish on its own, baby gem with a herb style dressing topped with something I'm unsure of but possibly sumac. The menu has a vast selection of alcoholic and non-alcoholic drinks. And there are also sharing options including babganoush and saucy naans.
Once we were done, the manager promptly bought us our bill and it was nice to have a bit of a chat with someone, which is rare in hospitality these days. The service was prompt, friendly and not pushy. The food met or exceeded every expectation I had. The price is what you will pay anywhere in London for a meal that is well cooked, locally and ethically sourced and people need to get used to that.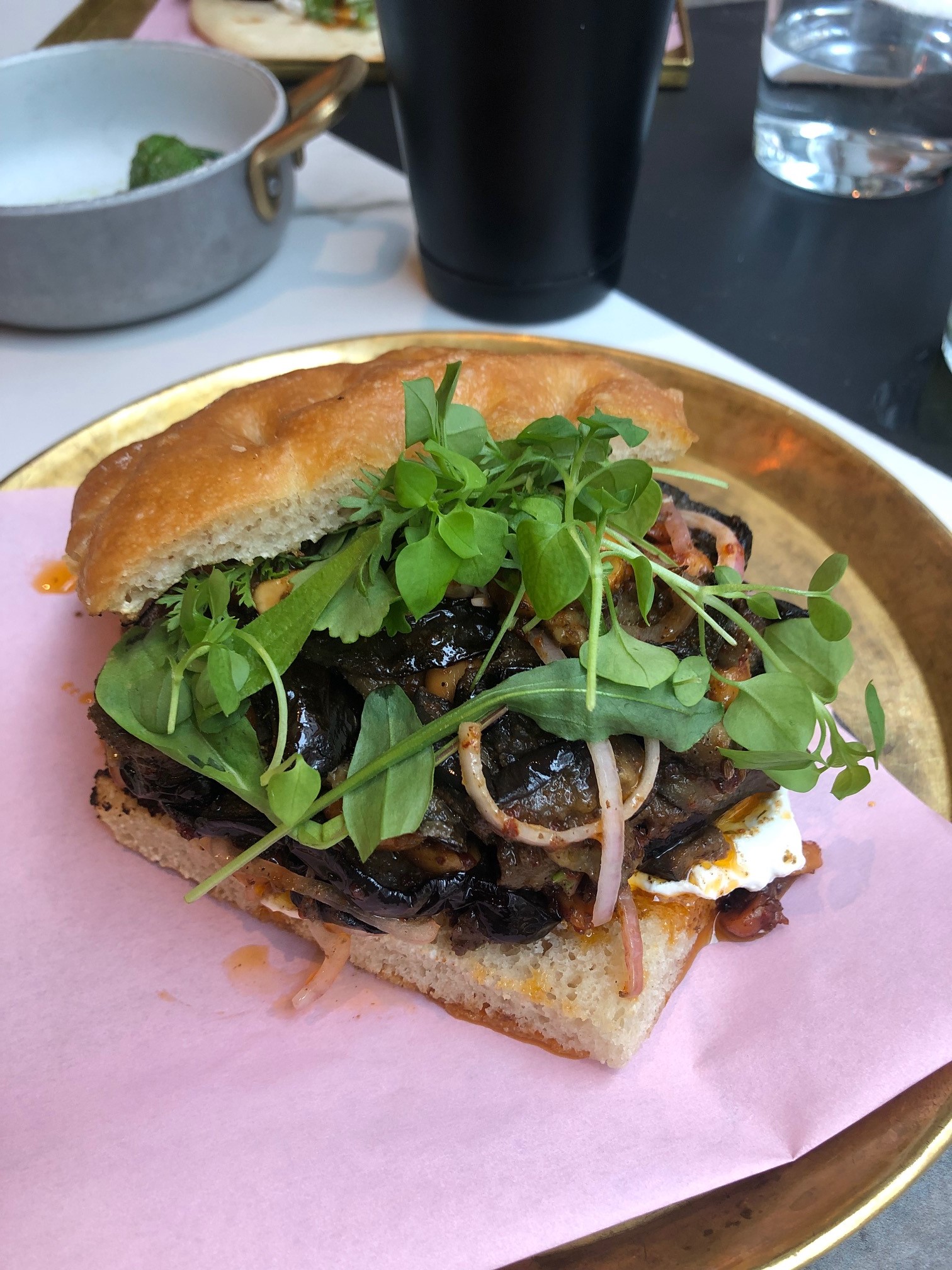 RIDING HOUSE CAFE
43-51 Great Titchfield Street, Fitzrovia, London, W1W 7PQ
Somewhere I have read about, walked past and wanted to visit for a long time, kind of an iconic venue in Fitzrovia really. It certainly wasn't on the plan for today, I had two hours and needed to get my head down and into some work and just walked past it and thought yep, today is the day.
They have a lovely long sharing table which is great for us solo workers. It was busy and buzzy but I was served promptly and showed to the said table. I started with an oat milk flat white. I'm not vegan or anti dairy, I just like oat milk in coffee. The menu has all the classics, eggs Benedict and Florentine, scrambled egg on sourdough, smashed avo, pancakes, there was so much choice. I opted for the seasonal mushrooms on ciabatta with a poached egg. Honestly, I was thinking "I hope the bread isn't too tough, because then you can't cut through it, and the mushrooms fall off and it's just messy." And to my delight it was utter perfection, the butter and mushroom juices (if that's even a thing) had soaked into the bread, just enough that it was easy to slice into. The mushrooms were soft, well-seasoned and buttery and the poached egg had the perfect yolk. I mean if you can do those Instagram boomerangs, this would have been the time.
I still had time to kill so then ordered a white peony tea, which was floral and light. Teapot leaked though, still yet to have tea somewhere where it doesn't. And there was no tea strainer, I improvised, no biggie.
The atmosphere was on point, and when you flit about working here there and everywhere, an atmosphere like this helps you to get sh*t done in your downtime.
If this place isn't on your list, it should be. They also do lunch, dinner and cocktails, there is something for everyone.
WULF & LAMB
243 Pavillion Road, London, SW1X 0BP
I saw this café advertised in an Evening Standard newsletter which lands in my inbox every now and again. Not going to lie, I don't have time to read them all but this one I glanced over. Being ever so inquisitive about consuming more plants in my diet and having tried many vegan and raw restaurants previously (all which have closed down) this one was officially "on the list".
It's easy to find and located in the ever so trendy Pavillion Road in Sloane Square, surrounded by bakeries, butchers, cheese makers and cafes. And this is what it is really, a café. They have seating upstairs and a small amount downstairs too. Although not quite sure they've nailed the ordering system just yet. The till is downstairs with a menu board above it and there are also menus you can take to your table for browsing, you then order at the till and they give you a table number. I can see how this works during the day, it's a basic café principal. But I arrived early and was waiting for my friend so I was informed I could order my drink downstairs or upstairs. Had to take a menu with me and then come back downstairs to order the food, but extra drinks or desserts could be ordered and paid for upstairs. Confused yet?
Putting that to one side, the food was pretty damn good. I opted for a non-alcoholic Seedlip and tonic. If you haven't tried Seedlip yet they really have the market share of non-alcoholic spirits, it tastes exactly the same. We decided to share so ordered the Chilli 'Non' Carne which came with basmati rice and cashew soured cream. Absolutely delicious and makes a definite change from three bean chilli. It's made with mushrooms, lentils and kidney beans and I think it must have been slow cooked as it was super soft, yet spicy too I could have devoured the entire thing. We fancied a burger but didn't want to get The Wulf Burger (it was a meat substitute burger), but rather an actual veggie burger, so ordered the Spicy Veg Burger. It was ok, not much flavour if I'm honest and there were only four chunky wedges, the sauerkraut was a nice touch. It was a bad choice on our behalf as I am sure there were other items on the menu that would have been delicious like the Wulf Pie made with pulled jackfruit. We saw lots of people ordering the Roasted Winter Veg, it looked yum! They also do sandwiches and wraps which I am sure are extremely popular through the day.
Our dessert was a chocolate brownie with cashew ice cream. It was served warm with a rich and sticky chocolate sauce. The cashew ice cream was amazing, held its shape and the texture was the same as standard ice cream, kudos right here.
These places are great and are popping up everywhere but there is a big public misconception that veggie food will be cheaper, and when you are using ingredients like cashews, that's certainly not the case I can assure you. They are one of the most expensive foods and food such as this take a lot of time to prepare. If you are making a choice for a vegetarian or vegan main course, its not cheaper because it hasn't got meat. It's the same price, or in some cases more expensive. It's been prepared with the same care and attention. We need to change our mindsets on this.
Would I go back? Yeah, I probably would but for lunch.
FLOURISH CRAFT BAKERY
Unit 2, Garnett Close, Watford, WD24 7GL
Popped into this beautiful bakery turned café last weekend after it had been recommended to me by numerous people. It seems industrial estates are the up and coming of the café world and it makes sense, cheaper rent, more parking and generally bigger spaces.
The décor and set out here is basic but rustic and trendy, it's got warm friendly vibe although there was no music playing when we were there which would have added to the ambience. There is so much space which is perfect for big groups, mums and bubs and actually just not being crammed into a small space which is something we aren't used to in the UK is refreshing. The bakery is visible through the glass windows as you sit inside so you can see the masters at work and the cafe kitchen, behind the counter, is somewhat visible through an open pass.
The menu is on a board above the counter and also on A4 clipboards you can collect when you arrive to decide at your table. You order at the counter and the food and drink is then brought over to you. My mouth was watering at the cake selection although that will have to wait until next time. Obviously there is a truck load of bread to choose from which you can buy and they slice for you. We opted for standard sourdough, sliced, shame it was tied in a plastic bag. The Irish soda bread came in paper so brownie points won back there.
I ordered the full vegetarian which consisted of sourdough (made onsite obviously), homemade beans, scrambled egg (you can choose any way to have your eggs), grilled halloumi, avocado, grilled tomatoes and a few field mushrooms. He opted for the traditional smashed avocado on sourdough with poached eggs and halloumi, and as it was Australia Day anything without avocado would have been unacceptable really.
The food arrived pretty quick, I'd imagine most of the prep is done its just cooking the fresh eggs and ensuring the other items stay warm. The rest of the menu looks tasty and isn't split into breakfast and lunch, although there are clear items for each eating occasion. I am already planning my next trip, more of a lunch time occasion so I can try the Reuben, tuna melt and the beetroot burger. They also have a small but adequate children's menu.
Coffee was on point, I had an oat milk flat white which is my coffee of choice at the moment and it was creamy and strong but not bitter. Not sure who the roaster is. Cold drinks are housed in a help yourself fridge, in my opinion water being sold in plastic bottles should be removed from all cafes. They do have free water available from a tap which is handy.
Flourish, thankyou for bringing the London bakery and café scene to Watford, you may just become my regular hangout.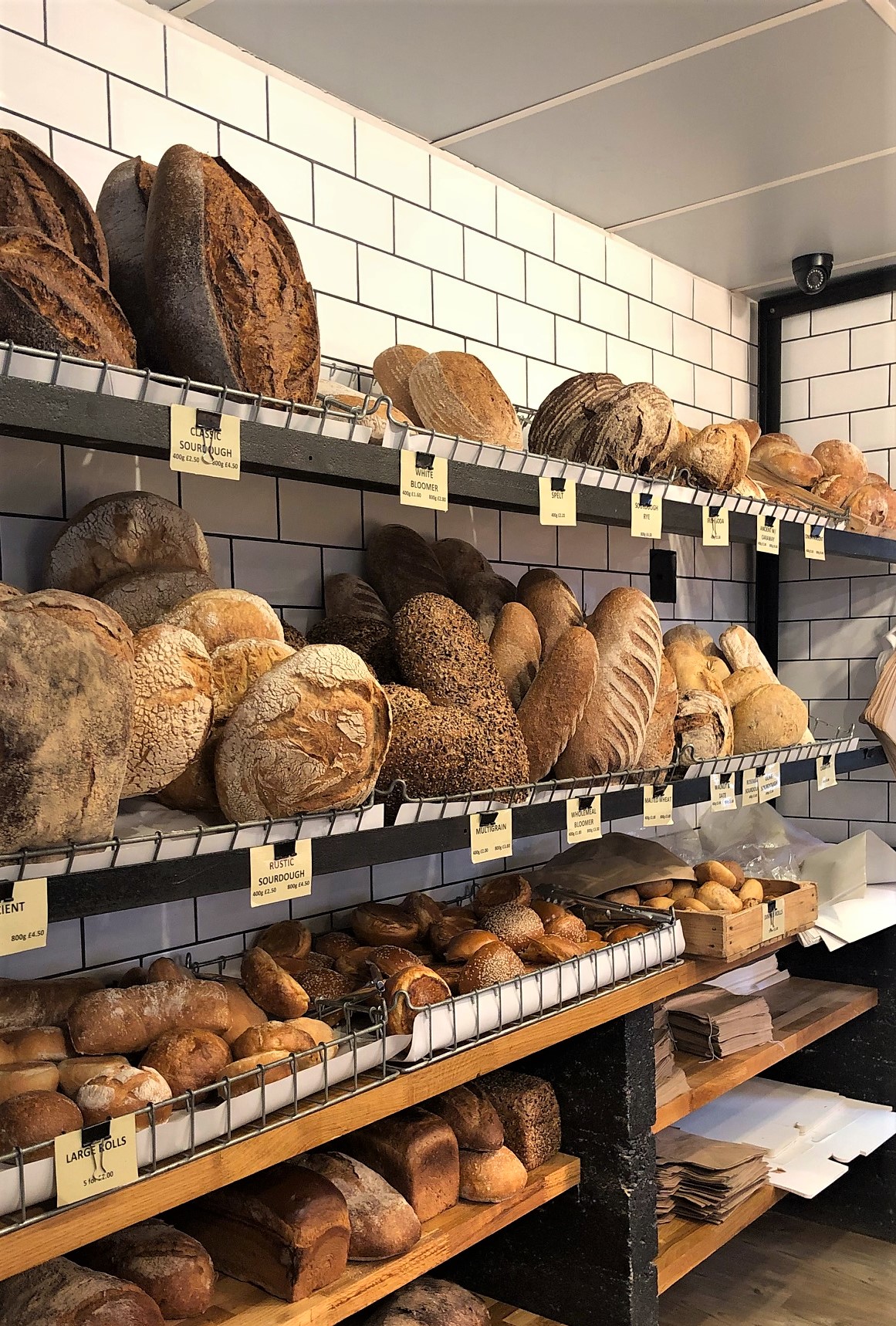 ALMA
93-95 Ryrie Street, Geelong, Victoria, Australia, 3220
Here's one for all my Aussies and given it's Australia Day, there was no better time to post.
Two of my most favourite people in the world took me here for dinner the night before our Aussie wedding celebrations. I will never forget it. A restaurant based around sharing laughter, stories and food (booze too) is 100% up my street. Described as Australian dining inspired by South America here's a run down of how we filled our tummies:
Sweet corn & 3 cheese empanada – crunchy on the outside and gooey inside, I could have eaten a plateful of them.
- Crispy polenta chips with guanciale (cured meat), fermented chilli & Manchego – no brainer. Perfectly crispy and fluffy on the inside. The manchego and chilli combo was perfect.
- Crispy potatoes with garlic & parsley – basically a bowl piled high with baby spuds, salted to perfection with extremely crispy skin. Skin on is always best, except maybe in mash.
- Sweet potato, pickled chilli, peppers & goat cheese – more carbs, we went hard core this night. These ones were soft wedges, skin also on. The sweet taste of the potato mixed with the tart goat cheese was divine.
- Charred seasonal greens with currants & almonds – because greens are good for you. Even when dining out. They were tasty too.
- Ravens Creek pork belly with fermented pineapple & chicharron – would never have though pork and pineapple could be paired but this proves they can indeed. Ravens Creek Farm is on the outskirts of Geelong, they also have their own café.
- Roasted half chicken with avocado & cucumber – because it wouldn't be an Aussie meal if it didn't contain avo.
We didn't sample the drinks menu as we had quite a big session planned the following day and had one expectant mumma too, so can't help with recommendations there. And looking back, between three of us this was a lot of food, we could have done with one or two less to be honest.
The space downstairs is filled with soft seating booths and individual tables, the colour scheme is dark blues and greys which makes for an intimate and cosy setting. They've also got a light and airy upstairs dining space which can be booked out.
Took no photos – was too ingrained in just enjoying the night. We should all do more of that.
(Photo credit to the @alma_geelong Instagram)
MAM
16 All Saints Road, Notting Hill W11 1HH
This one popped up on my social feeds recently and immediately it went into SOON (my most recent APP purchase which holds lists of cafes, bars, books, music and loads more, ideal if you freelance and are looking for somewhere to eat nearby, find it in the appstore). Ever since visiting Vietnam in 2016 I've fallen in love with Vietnamese food, the flavours are simply so fresh and delicious and we could do with more of it in the UK.
I visited with friends so we shared some An-Hoi, small plates, to start. The wings are insane, we actually ordered a second portion they were that good. TOP TIP: when they are delivered they are steaming hot so give it a few minutes to avoid burning the sh*t out of your mouth and not enjoying the rest of the meal. The Banh Xeo was next, I actually made these savoury crepes at a cooking school in Hoi An, they were just as good and the crunchy veg on the side mixes up the texture nicely. Finally the dumplings, which were divine, possibly a little bit too much spring onion garnish, but mior detail.
I had to go for the Pho Bo (beef) for main, it's exactly what I fancied and didn't disappoint. The beef was rare and cooked in the stock as I consumed the noodles and veg, They also have sriracha sauce on the tables if you want to spice things up a bit more.
As for drinks The Worldwide Cuba is a delicious gin cocktail and the Notting Hill Spritz (their twist on a tradition Aperol) is light and refreshing, Be wary of A Guyanan in Louisiane, it's strong (that'll be the absinthe) and will make your face scrunch up, you know the look I mean…..
And all in all, two cocktails, enough food for a small army and service for under £40, in West London, that'll do nicely, thanks!
Next time, I'll be sampling the Vietnamese BBQ and my even make a trip to their sister restaurant Salvation in Noodles
SQUIRREL
11 Harrington Road, South Kensington, SW7 3ES
With my recent teaching spot at Bests Cycle a few doors down, I've visited this cute café on a number of occasions, and it will more than likely become a habit. The concept of the café is great, with their custom made bowls and brekkies with the added option of making it bespoke if you wish. They also have a "treehouse" where you can escape from the ground floor and chill, read or look over the balcony at what's going on down below. Coffee, tea, juices and a drinking well keep things interesting and I simply love the idea of warming tonics especially with winter just around the corner.
The last time I visited was for lunch and I opted for the Guac n Roll – a #massive salad with a carb base of brown rice and a protein source of chicken. It's worth the £8.50 as the portion was epic, albeit mostly bulked with spinach, but as we don't eat enough fruit and veg in this country I get where they are going with it (and it's a cheap ingredient). I've also sampled the feta egg bowl which was delicious and value for money under £5.00 – particularly love the black beans which are so versatile but not used very often.
I did however wait quite a while to be served, it was lunchtime and there was only one staff member on the very long counter. However, I was greeted by an exceptional customer service assistant when the time came, who chatted whilst making my lunch and also refiled my water bottle. Sometimes it really is the little things that make the difference. The only other downside is that I've recently started having oat milk in my coffee sometimes because I like the taste, but on two occasions they haven't had it even though it's advertised.
I'd recommend a careful watch on the food names, agree they are pretty fun, but some, such as Thai Clean Curry can be seen in a negative light with the recent clean eating debate and links to negative and positive foods.
I'll be back for some takeaway avo toast after my next cycle class!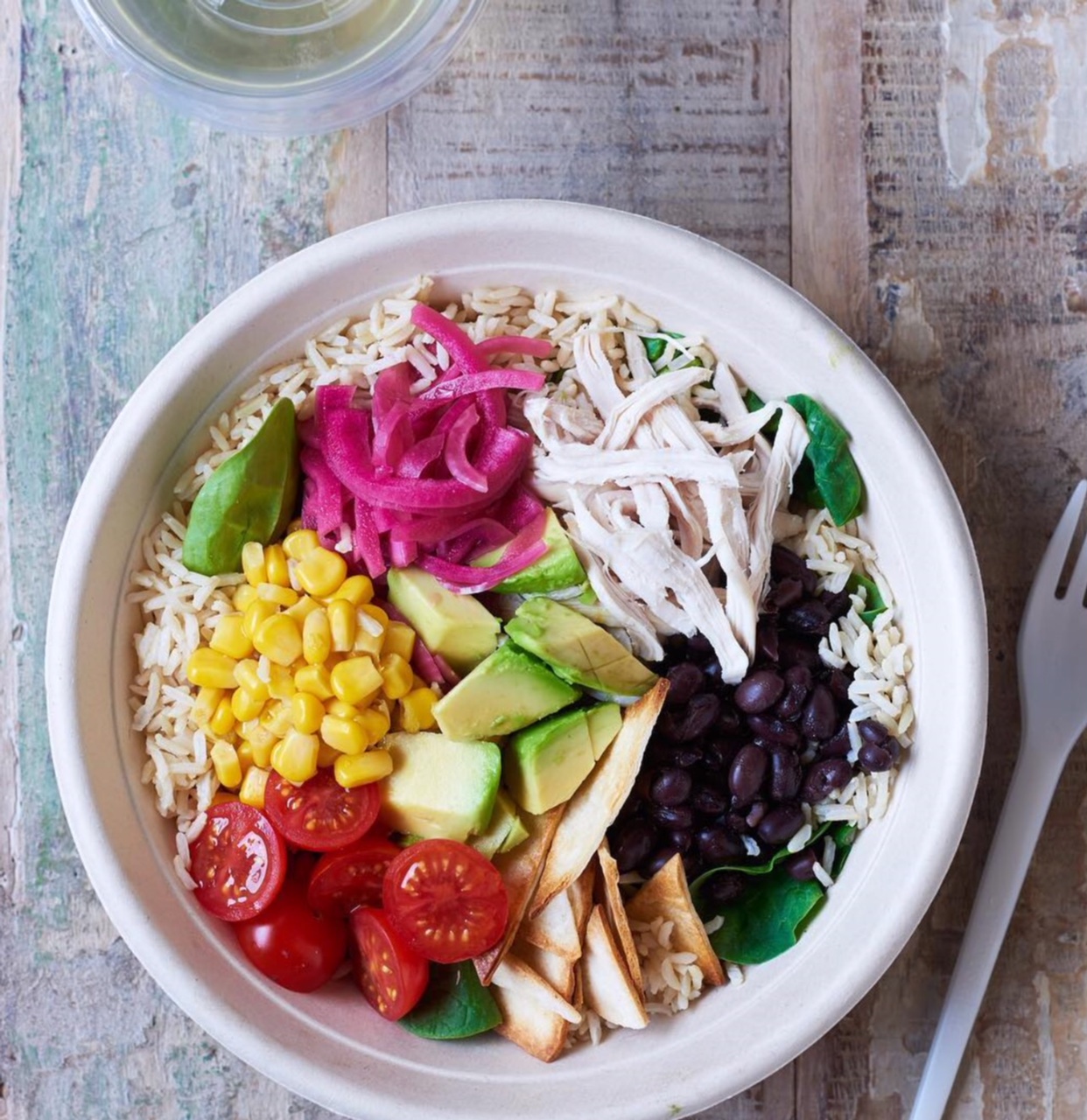 FARMSTAND
42 Drury Lane, Covent Garden, London, WC2B 5AJ
Same Aussie friend as the last review, she conveniently works right near here, it makes for great breakfast and lunch dates. We popped in, with an hour on the clock. I arrived first and sat at the only vacant table I saw, then realised they have a wealth of seating downstairs, well thought out design feature. The food is pretty simple, the menu is on big boards behind the counter and the food itself is right there in front of you as you order. This does help when deciding, I certainly changed my mind on what I was having at least three times when I actually saw the food itself.
I went for the harissa chicken, coconut dahl and autumn slaw and said friend had the smokey aubergine (which I also heard loads of people order, proving the theory that more of us are going plant based) with coconut dahl and green beans. Every bite was tastier than the previous one. The harissa chicken wasn't too spicy and was made with thighs for added flavour which I personally loved. The dahl was soft and creamy and the slaw added the perfect crunch. It also packs a punch in the nutrition stakes too, lean protein for muscle recovery, cell growth and repair and fibre from the lentils to aid digestion and maintain optimum gut health. I often fear fibre has been forgotten, check our my blog post from earlier this year for more info on how to achieve a higher intake.
Price wise – its pretty good, £7.50 for mine and £6.75 for friends, also if you just want a plate of three sides with no meat, fish or veggie main, which I would totally opt for next time, it's £5.95. Bargain!
Later on, I also sampled their organic filter coffee and a brownie. Perfectly portion sized I must add and for £3.00 in total I believe it to be another bargain.
Perfect pitstop, and also great to dwell a little longer if you need to. As a famous robot once said, I'll be back.
26 GRAINS
2 Neal's Yard, Covent Garden, London, WC2H 9DP
Quite frankly I needed porridge inspiration for the winter months ahead, so it's a no brainer why this was my café of choice.
Opening at 8am in the secluded and overly cute Neal's Yard I wrongly thought this place wouldn't really get busy until 9ish. Luckily my friend arrived first and got us a table, we shared with two other diners and there was more than enough room. It's small and cosy with an open kitchen out the front leaving the warming smell of oats throughout. We both opted for the savoury oats, I've been wanting to try this for a while now (due to my love of eggs) so it was the perfect opportunity – I also think Carly didn't want food envy so decided on devouring the same. And two flat whites, of course. We did witness the Nordic Pear bowl arriving next to us which looked beautiful and for second we wondered if we'd made the right decision, but not for long.
The oats were creamy, the avocado perfectly ripe, egg yolk runny and the sirracha added the absolute right amount of spice. I haven't had alfalfa for years and it really topped it off bringing a different texture and ever so fresh taste. Top tip – chop everything up and mix it all together, promise it works! Service was brilliant, friendly, not over the top just casual but completely on the ball, all the time.
So if you are going, get there at opening, it's not a place to linger, but hey it doesn't take that long to devour a bowl of oats! I'm contemplating buying the cookbook.