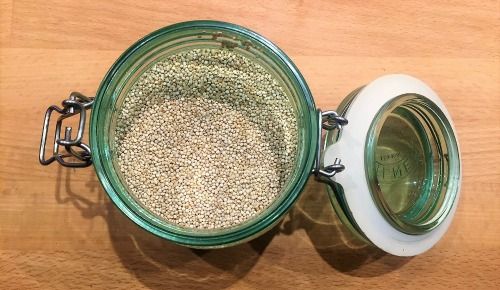 A few people have asked me recently about what I keep in my cupboards to whip up quick meals or lunchboxes when inspiration and energy is lacking. Luckily I'm quite creative when it comes to cooking, I can usually rustle something up with whatever I can find in the cupboards, fridge or freezer, but baking, well that's another story, never been my strong point, even when I follow recipes! So, here's a quick list of some of my essentials, with some recommendations of quick dishes you can whip up when you simply aren't feeling it. This is just a base list, it's not exhaustive by any means, but ensures you will always find something to satisfy your taste buds and your hunger.
Dry cupboard
Rice (either brown or white)
Quinoa
Couscous
Spaghetti
Jumbo oats
Chickpeas
Sweetcorn
Tinned tuna
Tinned tomatoes or passata
Veggie stock cubes
Soy sauce
Fish sauce
Worcestershire sauce
Balsamic vinegar
Rapeseed oil
Extra virgin olive oil
Rice wine vinegar
Sesame oil
Malt vinegar
Honey
Peanut butter
Tahini
Marmite
Mixed seeds
Almonds
Raisins
Plain flour
Baking powder
Rye flour
Self-raising flour
Desiccated coconut
Chia seeds
Ground almonds
Potatoes
Sweet potatoes
Free range eggs
Herbs & Spices
Oregano
Paprika (smoked as well as normal)
Turmeric
Cinnamon
Ground coriander
Ground cumin
Sumac
Dried chilli flakes
Sea salt
Pepper
Freezer – do underestimate the power of freezing as much as possible, it's a lifesaver
Peas
Sliced bread and/or tortilla wraps
Mince (beef, lamb, pork, chicken or turkey)
Fridge
Jam
Mayonnaise
Ketchup
Chutney of some sort (at the moment I have Waterhouse Fayre Devon Ale chutney and a beetroot relish)
Pickle
Mustard
Harissa
Sweet chilli sauce
Minced garlic
Onions
Spinach
Milk
Mushrooms
Tomatoes
Feta
Lemons/Limes
I haven't really included any meat or fish and fruit or veg here as I believe that shopping for personal taste and trying to buy I season is always best. A colourful fruit bowl will tell you that you have a multitude of vitamins and minerals. In terms of meat and fish it just really depends, I'll usually have chicken thighs, mince and smoked salmon, and more recently, tofu.
When cooking grains, always cook extra as they'll keep in the fridge for 4-5 days. That way if you are stuck you can literally mix them with anything for a quick bowl of goodness, hot or cold.
For an easy dressing, 1 tsp tahini and olive oil, lemon juice, S&P in an old jam jar – put the lid on and shake. Any extra will also keep in the fridge for 5 days.
And here's a few things I'd make using the ingredients above:
Sweet potato jacket with tuna and spinach
Spicy tomato spaghetti – use the tinned toms, garlic, onion, mushrooms, oregano, and spinach to make the sauce. Mix with the spaghetti and add feta to serve
Baked eggs – tinned tomatoes, dried chilli flakes, garlic, oregano – crack the eggs into the mix and bake in the oven. Serve with a slice of bread
Mix & match bowl – boiled eggs, cooked grains from the fridge or a tortilla from the freezer warmed in the oven, spinach, feta, fresh tomatoes diced, mixed seeds.
Be creative, and so what if it goes wrong? I can however assure you that if you build a plate with lots of food you love, it won't go wrong. It just won't.